Knights of Columbus Council 4175 Charter
In 1956, the Supreme Council had initiated a program of new council development with the purpose of creating councils in new neighborhoods and thus making them more viable and parish oriented.
On February 12, 1956 a joint initiation was held for the Charter Classes of the new North (Council 4175) and South (Council 4179) Knights of Columbus Councils. This large class was the culmination of several months of effort of the organizational committee under the direction of District Deputy, Louis Gietl and Knights of Columbus General Insurance Agent Paul Cooney.
The members of the Council 4175 Organizing Committee were the members of Council 364 and included Jim Gages and Roy Gillespie of St. Cabrini Parish and Mike Burns, Joe Naumovich and Paul McAnarney of St. Aloysius Parish.
Father Robert Franzen, who was then Assistant Pastor of St. Aloysius Parish was appointed the first Chaplain by Bishop William O'Connor.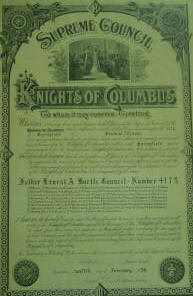 Transfers from Council 364
Donald P. Black
Emery T. Blasko
John W. Blasko, Jr.
Michael B. Burns
Michael J. Capranica
Patrick G. Capranica
J. H. Chrans
Jack F. Crowe
J. DeVitt
R. F. Douglas
August G. Egger, Jr.
Ernest A. Evanich
John M. Flynn
James W. Gages
Roy R. Gillespie
E. L. Kolar
A. A. Kunz
Joseph LaRocca
W. L. Matrisch
John A. Mudra
Paul McAnarney
Joseph Naumovich
George Petrilli
Phil Ramirez
R. L. Schuster
C. A. Starling
Steve R. Szerletich
Michael J. Timko

Initiated February 12, 1956
Charles Barber
Robert Berberet
A. P. Corredato
O. A. Dickinson
Louis A. Flaminio
Fr. Robert Franzen
Roland Fulgenzi
James Gephart
William Hattendorf
James I. Hill
Edward R. Maloney
Jerry Marrin
Bernis Matulevich
Xavier Meyer
P. Mosser
Herb Noblet
E. Novick
C. W. Oliver, Jr.
Frank Ramirez
George Starling
Roy E. Suter
Rollie Tate
Folgert F. VanDerWal
Edward Vespa, Jr.
J. S. Welch
Louis Zaccagni
Samuel E. Zaffari
Louis Zanardi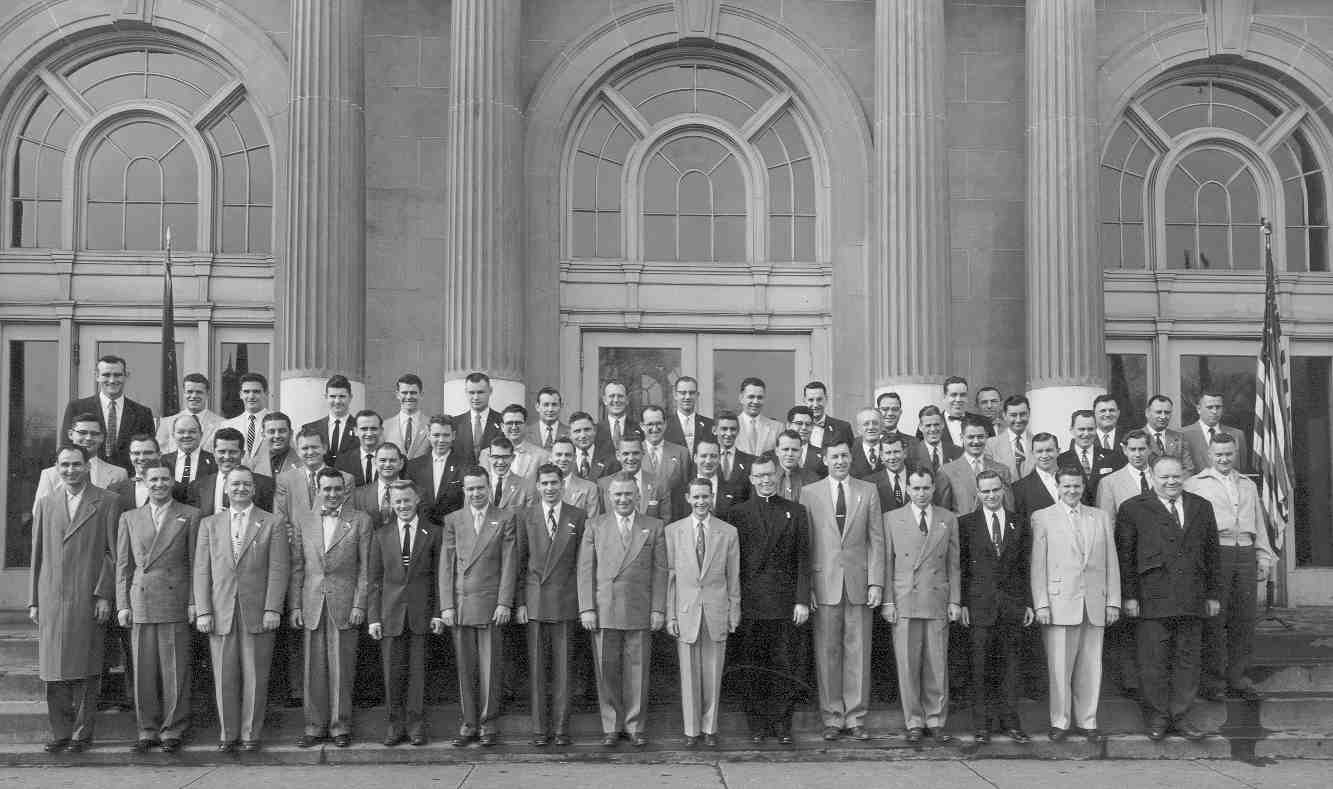 Front Row: (L to R)
Emil Kolar, Joe LaRocca, Louis Zanardi, Ed Vespa, Rollie Tate, Art Kunz, Mike Timko, Paul Moser, Joe Devitt, Fr. Robert Franzen, Jim Gephart, Charles Barber, Orvid Dickenson, Don Black and Xavier Meyer.
Second Row:
Jim Gages, Joe Naumovich, Mike Burns, Paul McAnarney, Louis Flamini, Otto Gatzenberger, Robert Suter, Jim Hill, Not Known, Jim Welch, George Starling, John Blasko, Bernie Matulevitch, Ernie Poole, and Walt Matrich.
Third Row:
Keith Lehman, Roland Fulgenzi, Mike Capranica, Auggie Egger, Ray Richey, Robert Berberet, Howard Noblett, Frank Ramirez, Phil Ramirez, Eddie Novick, Jerome Marrin, Emery Blasko and John Crowe.
Fourth Row:
Roy Gillespie, Jim Flynn, Pat Capranica, Jim Mudra, Not Known, Charles Starling, Bob Schuster, Not Known, Jack Chrans, Steve Szerletich, Lois Zaccagni, Mel Iocca, Bud VanDerWal, Bill Hattendorf, Ray Maloney, Sam Zaffiri, Tony Corredato, and Clyde Oliver.